The total advanced PCMs market is likely to reach USD 2,192 million by the end of 2023, growing at a CAGR of 16.0%. Growing concerns towards energy saving processes, sustainable development, increasing demand of biodegradable materials, and advancement in packaging science is driving the market for advanced PCMs globally. However, presence of harmful chemicals in PCMs and lack of government inventiveness and encouragement for the use of PCM products is to remain a major challenge for the advanced PCMs industry in near future.
In 2018, Europe accounts for the largest market share in advanced PCMs market followed by North America and Asia-Pacific. Growing construction activities in developing nations such as China, India, and Brazil is the main driver for the demand of PCM products. The governments in these nations is in a process of adopting environment-friendly legislation, which will further drive the demand of these products in these regions Also, continuous efforts of developed nations such as the US, EU-27, and Japan to save energy by optimizing the use of fossil fuels is further driving the use of PCM products in various applications.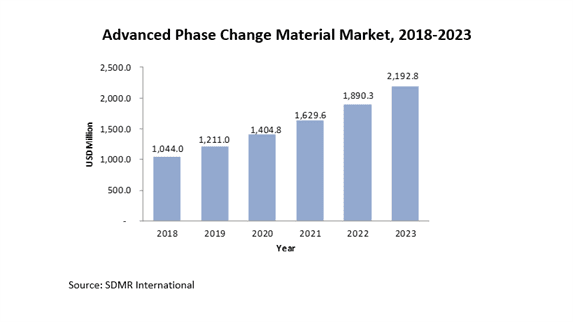 PCMs are broadly segmented into inorganic PCMs, organic PCMs, and bio-based PCMs. Organic PCMs are further classified as paraffin and non-paraffin materials, whereas inorganic phase changed materials segmented into salt hydrate and metallic. Bio-based advanced PCMs are mostly derived from plant oil or animal fat and poses higher biodegradability. Organic PCMs holds the largest market share in terms of value due to their high price. However, inorganic PCMs have the high consumption in terms of volume. Growing environment concerns and stiff regulation towards biodegradability, is expected to drive the demand of bio-based PCMs in coming years.
In 2017, building and construction is the largest application of PCMs due to their high use in building and construction activities especially in cooling buildings which in turn has arisen due to the shift from heavy thermal mass design to lightweight architecture. However, textile application is expected to have the highest CAGR of 25% from 2017 to 2023.
Market Players in PCM market adopt commonly adopting marketing strategies to position their products, which includes advertising PCM products as being cost and energy efficient and environmentally friendly products. Some of the key strategies and expansion plans adopted by top market players include joint ventures, investments, acquisitions, and collaboration with universities and research institutes to develop new products. Some of the major market players active in the industry include Outlast Technologies, CSafe Global, Dow Chemicals, DuPont BASF, Henkel, and Entropy Solutions.



1. Introduction
1.1. Goal & Objective
1.2. Report Coverage
1.3. Supply Side Data Modelling & Methodology
1.4. Demand Side Data Modelling & Methodology

2. Executive Summary

3. Market Outlook
3.1. Introduction
3.2. Current & Future Outlook
3.3. DROC
3.3.1. Drivers
3.3.1.1. Demand Drivers
3.3.1.2. Supply Drivers
3.3.2. Restraints
3.3.3. Opportunities
3.3.4. Challenges
3.4. Market Entry Matrix
3.5. Market Opportunity Analysis
3.6. Market Regulations
3.7. Pricing Mix
3.8. Value Chain & Ecosystem
3.9. Key Customers


4. Market Demand Analysis
4.1. Advanced Phase Change Material Market (PCM), By Type
4.1.1. Introduction
4.1.2. Organics
4.1.3. Inorganic
4.1.4. Bio-based
4.1.5. Others

5. Advanced Phase Change Material Market (PCM), By Form
5.1. Introduction
5.2. Building and Construction
5.3. Cold Storage
5.4. HVAC
5.5. Energy Storage
5.6. Refrigeration Equipment
5.7. Electronics
5.8. Textiles
5.9. Others (Healthcare, Automotive)

6. Advanced Phase Change Material Market (PCM), By Region
6.1. Introduction
6.2. North America
6.2.1. U.S.A
6.2.2. Canada
6.2.3. Mexico
6.3. Asia Pacific
6.3.1. China
6.3.2. Japan
6.3.3. South Korea
6.3.4. India
6.3.5. Australia
6.3.6. Others
6.4. Europe
6.4.1. Germany
6.4.2. UK
6.4.3. Sweden
6.4.4. France
6.4.5. Italy
6.4.6. Others
6.5. Middle East & Africa
6.5.1. Saudi Arabia
6.5.2. UAE
6.5.3. Others
6.6. South America
6.6.1. Brazil
Rest of South America

6.7. Supply Market Analysis (Industry Player Analysis)
6.7.1. Strategic Benchmarking
6.7.2. Market Share Analysis
6.7.3. Key Players
6.7.3.1. ACU Temp Thermal Systems
6.7.3.2. Aegis Building Technologies
6.7.3.3. AI Technology Inc
6.7.3.4. Aster Teleservices Pvt Ltd
6.7.3.5. BASF AG
6.7.3.6. National Gypsum
6.7.3.7. Capzo International B V
6.7.3.8. Chomerics
6.7.3.9. Cosella-Dorken
6.7.3.10. Dow Chemical
6.7.3.11. Honeywell Electronics Materials, Inc.
6.7.3.12. Entropy Soluations LLC
6.7.3.13. Microtek Laboratories
6.7.3.14. Phase Change Materials Products
6.7.3.15. Henkel AG
6.7.3.16. Sasol Limited
6.7.3.17. Croda International PLC.




SDMR employs a three way data triangulation approach to arrive at market estimates. We use primary research, secondary research and data triangulation by top down and bottom up approach

Secondary Research:
Our research methodology involves in-depth desk research using various secondary sources. Data is gathered from association/government publications/databases, company websites, press releases, annual reports/presentations/sec filings, technical papers, journals, research papers, magazines, conferences, tradeshows, and blogs.
Key Data Points through secondary research-
Macro-economic data points
Import Export data
Identification of major market trends across various applications
Primary understanding of the industry for both the regions
Competitors analysis for the production capacities, key production sites, competitive landscape
Key customers
Production Capacity
Pricing Scenario
Cost Margin Analysis
Key Data Points through primary research-
Major factors driving the market and its end application markets
Comparative analysis and customer analysis
Regional presence
Collaborations or tie-ups
Annual Production, and sales
Profit Margins
Average Selling Price
Data Triangulation:
Data triangulation is done using top down and bottom approaches. However, to develop accurate market sizing estimations, both the methodologies are used to accurately arrive at the market size. Insert Image