The total Flame Retardant market is valued at USD 6.8 billion as on 2017 and is anticipated to reach USD 8.8 billion by the end of 2023, growing at a CAGR of 4.5%. Rising urbanization, along with government initiatives to provide affordable housing is expected to drive the demand of these products in construction sector especially in developing nations. Continued robust economic growth and increasing market penetration of flame retardants in industrialized countries, and rising personal incomes is further expected to increase the demand of flame retarded plastic products.
In 2017, Asia-Pacific region accounted for the largest market share in global flame retardant market accounting for more than 50% market share. It is further expected to grow at the fastest CAGR owning to growing use of flame retardants in China and India followed by Thailand. The demand of flame retardant in North America will rise at a faster pace as compared to other developed regions mainly due to reviving construction market of the US.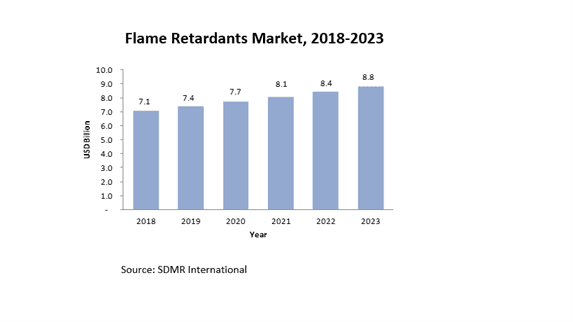 In 2017, Non-halogenated flame retardants market accounted for largest market share of 60% in terms of volume. This product segment is further expected to witness a highest CAGR of 6% in the forecast period owing to high regulations aimed at phasing out halogenated flame retardant usage. Aluminium hydroxide (ATH) accounted for the highest market volume within the non-halogenated product segment at 1 million tons in 2017, and is further expected to grow at an estimated CAGR of 5% during the forecast period.
Electrical & electronics segment is the leading end-user industry of flame retardants with a market of 40% in 2017 and is further expected to witness a highest CAGR of 5% during the forecast period 2018 to 2023. Building & Construction end-user industry is projected to grow at a CAGR of 4.0% from 2018 to 2023 due to high use of flame retardant infused materials in structural insulations and elements.
Major market leaders are acquiring small companies to increase their footprint in the respective region. Companies are focusing more on product innovation to gain market share. Some of the market players active in the industry include Albemarle, BASF ICL, Chemtura, Clariant International Ltd., Italmatch Chemicals, Huber Engineered Materials, BASF, Thor Group Ltd., & DSM.
1. Introduction
1.1. Goal & Objective
1.2. Report Coverage
1.3. Supply Side Data Modelling & Methodology
1.4. Demand Side Data Modelling & Methodology
2. Executive Summary
3. Market Outlook
3.1. Introduction
3.2. Current & Future Outlook
3.3. DROC
3.3.1. Drivers
3.3.1.1. Demand Drivers
3.3.1.2. Supply Drivers
3.3.2. Restraints
3.3.3. Opportunities
3.4. Market Entry Matrix
3.5. Market Opportunity Analysis
3.6. Market Regulations
3.7. Pricing Mix
3.8. Value Chain & Ecosystem
3.9. Key Customers

4. Market Demand Analysis
4.1. Flame Retardant Market, By Type
4.1.1. Introduction
4.1.1.1. Halogenated
4.1.1.2. Brominated
4.1.1.3. Antimony Oxide
4.1.1.4. Others
4.1.2. Non-Halogenated
4.1.2.1. Aluminum Hydroxide
4.1.2.2. Magnesium Dihydroxide
4.1.2.3. Others

5. Flame Retardant Market, By End-Use Industry
5.1. Introduction
5.2. Wires & Cables
5.3. Textiles
5.4. Building & Construction
5.5. Electronics & Appliances
5.6. Automotive & Transportation
5.7. Other End-Use Industries

6. Flame Retardant Market, By Application
6.1. Introduction
6.2. Epoxy
6.3. ABS
6.4. Polyolefins
6.5. Polyvinyl Chloride (PVC)
6.6. Polyamide
6.7. Polystyrene
6.8. PET & PBT
6.9. Polyamide
6.10. Polyurethane
6.11. Others

7. Flame Retardant Market, By Region
7.1. Introduction
7.2. North America
7.2.1. U.S.A
7.2.2. Canada
7.2.3. Mexico
7.3. Asia-Pacific
7.3.1. India
7.3.2. Japan
7.3.3. China
7.3.4. South Korea
7.3.5. Australia
7.3.6. Others
7.4. Europe
7.4.1. Germany
7.4.2. UK
7.4.3. Sweden
7.4.4. France
7.4.5. Italy
7.4.6. Others
7.5. Middle East & Africa
7.5.1. Saudi Arabia
7.5.2. UAE
7.5.3. Others
7.6. South America
7.6.1. Brazil
7.6.2. Others

7.7. Supply Market Analysis (Industry Player Analysis)
7.7.1. Strategic Benchmarking
7.7.2. Market Share Analysis
7.7.3. Key Players
7.7.3.1. Albemarle Corporation
7.7.3.2. ICL (Israel Chemicals Ltd.)
7.7.3.3. Chemtura Corporation
7.7.3.4. Clariant International Ltd.
7.7.3.5. Lanxess AG
7.7.3.6. Nabaltec AG
7.7.3.7. The DOW Chemical Company
7.7.3.8. BASF SE
7.7.3.9. Akzo Nobel
7.7.3.10. Italmatch Chemicals
7.7.3.11. Huber Engineered Materials (HEM)
7.7.3.12. DSM
7.7.3.13. FRX Polymers
7.7.3.14. Thor Group Ltd. & Others

SDMR employs a three way data triangulation approach to arrive at market estimates. We use primary research, secondary research and data triangulation by top down and bottom up approach

Secondary Research:
Our research methodology involves in-depth desk research using various secondary sources. Data is gathered from association/government publications/databases, company websites, press releases, annual reports/presentations/sec filings, technical papers, journals, research papers, magazines, conferences, tradeshows, and blogs.
Key Data Points through secondary research-
Macro-economic data points
Import Export data
Identification of major market trends across various applications
Primary understanding of the industry for both the regions
Competitors analysis for the production capacities, key production sites, competitive landscape
Key customers
Production Capacity
Pricing Scenario
Cost Margin Analysis
Key Data Points through primary research-
Major factors driving the market and its end application markets
Comparative analysis and customer analysis
Regional presence
Collaborations or tie-ups
Annual Production, and sales
Profit Margins
Average Selling Price
Data Triangulation:
Data triangulation is done using top down and bottom approaches. However, to develop accurate market sizing estimations, both the methodologies are used to accurately arrive at the market size. Insert Image