The total aerogel market is valued at $ 800 million as on 2017 and is likely to reach $ 3,125 million by the end of 2023, growing at a CAGR of 25%. In the coming years, aerogel market is expected to grow bolstered by growth in the end-user industries such as oil & gas, automobile, and marine & aerospace. High insulation properties of aerogel and cheap & abundant availability of the raw material are some of the factors driving the use of aerogel in these end-use industries. Easy installations of aerogel in insulation application, followed by reusable and recyclable properties of aerogel further add value to its end-market. However, high production cost still remains a major challenge for the aerogel industry. Based on the raw material, aerogel market is segmented into carbon, alumina and others.

In 2017, Aerogel market was dominated by silica aerogel, which is used in all major applications, such as oil & gas, building insulation, automotive, aerospace, electronics, and others. Silica aerogel accounted for more than three fourth of market share in the aerogel industry, in 2017. However, the demand of carbon aerogel is expected to register the highest growth due to growing application of carbon aerogel in electronics, semiconductor and super capacitors applications.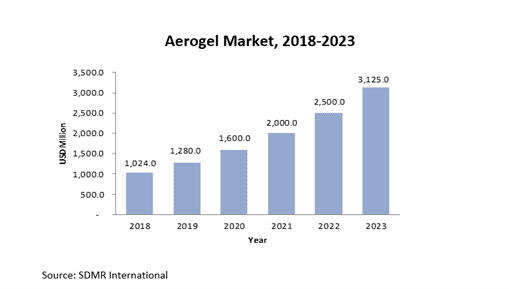 Oil & gas segment is the largest application of aerogel in 2017, followed by building insulation. Rising demand of advanced insulation materials in the oil & gas application is fueling the growth of the aerogel market globally.

Industry players are adopting various strategies such as new product launch, partnership, and expansion to increase their presence in the competitive market. Some of the major companies active in the industry include Aspen Aerogel Inc., Cabot Corporation, American Aerogel Corporation, Svenska Aerogel AB, BASF SE, Dow Corning Corporation, Airglass AB, JIOS Aerogel, Active Aerogels, and Acoustiblok UK Ltd. Strong technological set-up has made North America the largest market for aerogel followed by China. Aerogel finds high application in space suits developed by National Aeronautics and Space Administration (NASA) in the United States. Countries like Brazil, Germany, and UK are few other markets for aerogel. Asia-Pacific and Europe is expected to register high growth due to their increasing research activities in innovation and new application areas.


1. Introduction
1.1. Goal & Objective
1.2. Report Coverage
1.3. Supply Side Data Modelling & Methodology
1.4. Demand Side Data Modelling & Methodology

2. Executive Summary

3. Market Outlook
3.1. Introduction
3.2. Current & Future Outlook
3.3. DROC
3.3.1. Drivers
3.3.1.1. Demand Drivers
3.3.1.2. Supply Drivers
3.3.2. Restraints
3.3.3. Opportunities
3.3.4. Challenges
3.4. Market Entry Matrix
3.5. Market Opportunity Analysis
3.6. Market Regulations
3.7. Pricing Mix
3.8. Value Chain & Ecosystem
3.9. Key Customers

4. Market Demand Analysis
4.1. Aerogel Market, By Raw Material
4.1.1. Introduction
4.1.2. Silica
4.1.3. Carbon
4.1.4. Alumina
4.1.5. Polymer
4.1.6. Others

5. Aerogel Market, By Form
5.1. Introduction
5.2. Blanket
5.3. Block
5.4. Panel
5.5. Others

6. Aerogel Market, By Application
6.1. Introduction
6.2. Oil & Gas
6.3. Building Insulation
6.4. Apparel
6.5. Electronics
6.6. Transportation
6.7. Performance Coating
6.8. LVHS
6.9. Automotive
6.10. Marine & Aerospace
6.11. Others

7. Aerogel Market, By Region
7.1. Introduction
7.2. North America
7.2.1. US
7.2.2. Canada
7.2.3. Mexico
7.3. APAC
7.3.1. China
7.3.2. Japan
7.3.3. South Korea
7.3.4. India
7.3.5. Others
7.4. Europe
7.4.1. Germany
7.4.2. UK
7.4.3. Sweden
7.4.4. France
7.4.5. Others
7.5. Middle East & Africa
7.5.1. Saudi Arabia
7.5.2. UAE
7.5.3. Iran
7.5.4. Others
7.6. South America
7.6.1. Brazil
7.6.2. Argentina
7.6.3. Rest of South America
8. Supply Market Analysis (Industry Player Analysis)
8.1. Strategic Benchmarking
8.2. Market Share Analysis
8.3. Key Players
8.3.1. Aerogel Technologies
8.3.2. Nano High-Tech
8.3.3. BASF
8.3.4. Cabot Corporation
8.3.5. Aspen Aerogel
8.3.6. JIOS Aerogel Corporation
8.3.7. Dow Corning Corporation
8.3.8. Guangdong Alison Hi-Tech
8.3.9. Active Aerogel
8.3.10. Enersens
8.3.11. Aerogel UK
8.3.12. Intelligent Insulation
8.3.13. DOW Corning
8.3.14. Ocellus & Others


SDMR employs a three way data triangulation approach to arrive at market estimates. We use primary research, secondary research and data triangulation by top down and bottom up approach

Secondary Research:
Our research methodology involves in-depth desk research using various secondary sources. Data is gathered from association/government publications/databases, company websites, press releases, annual reports/presentations/sec filings, technical papers, journals, research papers, magazines, conferences, tradeshows, and blogs.
Key Data Points through secondary research-
Macro-economic data points
Import Export data
Identification of major market trends across various applications
Primary understanding of the industry for both the regions
Competitors analysis for the production capacities, key production sites, competitive landscape
Key customers
Production Capacity
Pricing Scenario
Cost Margin Analysis
Key Data Points through primary research-
Major factors driving the market and its end application markets
Comparative analysis and customer analysis
Regional presence
Collaborations or tie-ups
Annual Production, and sales
Profit Margins
Average Selling Price
Data Triangulation:
Data triangulation is done using top down and bottom approaches. However, to develop accurate market sizing estimations, both the methodologies are used to accurately arrive at the market size. Insert Image