The total PMMA market is valued at $ 4.6 billion as on 2017 and will reach $ 6.5 billion by the end of 2023, growing at a CAGR of 7%. Rapidly growing demand of light weight parts in automotive vehicles, and use of PMMA in automotive glazing supported by high weathering, UV resistance, and optimum acoustic properties of PMMA is expected to drive the demand of PMMA in automotive sector. Rapid digitalization of rural areas has driven the need for attractive advertising options, leading to high demand of PMMA in signs & displays, lighting, and other similar applications.
Asia Pacific will register the highest CAGR of around 8.0% during the forecast period from 2018-2023. Increasing per capita income among middle class in China and India and expected boost of automotive industry in developing countries is further expected to drive the demand of PMMA in these regions. Multinational players are shifting their production bases to these emerging economies to tap the untapped opportunities which is further expected to boost the demand of these products in these regions. Regions like Middle East & Africa is expected to grow at the second highest CAGR of 7.0% due to several upcoming projects and expected consolidation of large players in these regions.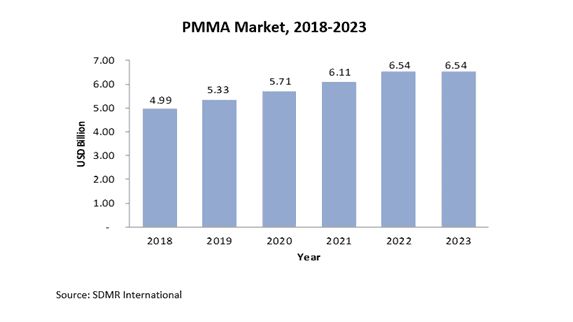 Extruded sheets segment accounted for largest market share of 50% in terms of volume in 2017, due to robust demand of these sheets in industrial sectors. Excellent thickness tolerance and cost-efficiency are the driving factors for the increased demand of these products in this sector. Acrylic beads segment is expected to grow at the highest CAGR of 7% in the forecast period.
PMMA finds majority of application in signs & displays and construction segment. Telecommunication signs & displays and endoscopy are also utilizing fiber optics made from this material for various applications which is further expected to drive the PMMA demand in forecast period.
Companies are continuously investing in PMMA economics and innovation. For instance, Lucite International has developed Alpha technology, method to produce MMA by using carbon monoxide, ethylene, and methanol as raw materials. This technology has significantly improved the operating economies and has also provided an opportunity to reduce the capital investment. Some of the major players active in the region include Evonik Industries, Mitsubishi Rayon Group, Sumitomo Chemical Company Ltd., The Dow Chemical Company, Chi Mei Corporation, Kuraray Group, Asahi Kasei Corporation, LG MMA Corp., Makevale Group, Shanghai Jing-Qi Polymer Science Co. and, Polycasa N.


1. Introduction
1.1. Goal & Objective
1.2. Report Coverage
1.3. Supply Side Data Modelling & Methodology
1.4. Demand Side Data Modelling & Methodology

2. Executive Summary

3. Market Outlook
3.1. Introduction
3.2. Current & Future Outlook
3.3. DROC
3.3.1. Drivers
3.3.1.1. Demand Drivers
3.3.1.2. Supply Drivers
3.3.2. Restraints
3.3.3. Opportunities

4. Market Demand Analysis
4.1. PMMA Market, By Product Type
4.1.1. Introduction
4.1.2. Extruded Sheet
4.1.3. Acrylic Beads
4.1.4. Pellets
4.1.5. Others

5. PMMA Market, By End-use
5.1. Introduction
5.2. Signs & Displays
5.3. Construction
5.4. Automotive
5.5. Electronics
5.6. Others

6. PMMA Market, By Region
6.1. Introduction
6.2. North America
6.2.1. US
6.2.2. Canada
6.2.3. Mexico
6.3. APAC
6.3.1. China
6.3.2. Japan
6.3.3. South Korea
6.3.4. India
6.3.5. Others
6.4. Europe
6.4.1. Germany
6.4.2. UK
6.4.3. Sweden
6.4.4. France
6.4.5. Italy
6.4.6. Others
6.5. Middle East & Africa
6.5.1. Saudi Arabia
6.5.2. UAE
6.5.3. Others
6.5.4. Others
6.6. South America
6.6.1. Brazil
6.6.2. Argentina
6.6.3. Others

6.7. Supply Market Analysis (Industry Player Analysis)
6.7.1. Strategic Benchmarking
6.7.2. Market Share Analysis
6.7.3. Key Players
6.7.3.1. Arkema SA
6.7.3.2. Evonik Industries AG
6.7.3.3. Mitsubishi Rayon Co., Ltd.
6.7.3.4. Saudi Arabia Basic Industries Corporation (SABIC)
6.7.3.5. Sumitomo Chemical Co., Ltd.
6.7.3.6. Asahi Kasei Corporation
6.7.3.7. CHI MEI Corporation
6.7.3.8. Gehr Plastics, Inc.
6.7.3.9. Kolon Industries, Inc.
6.7.3.10. Polycasa N.V.
6.7.3.11. Makevale Group
6.7.3.12. The DOW Chemical Company
6.7.3.13. Shanghai Jing Qi Polymer Science Co. (SJPS)
6.7.3.14. Daesan MMA& Others




SDMR employs a three way data triangulation approach to arrive at market estimates. We use primary research, secondary research and data triangulation by top down and bottom up approach

Secondary Research:
Our research methodology involves in-depth desk research using various secondary sources. Data is gathered from association/government publications/databases, company websites, press releases, annual reports/presentations/sec filings, technical papers, journals, research papers, magazines, conferences, tradeshows, and blogs.
Key Data Points through secondary research-
Macro-economic data points
Import Export data
Identification of major market trends across various applications
Primary understanding of the industry for both the regions
Competitors analysis for the production capacities, key production sites, competitive landscape
Key customers
Production Capacity
Pricing Scenario
Cost Margin Analysis
Key Data Points through primary research-
Major factors driving the market and its end application markets
Comparative analysis and customer analysis
Regional presence
Collaborations or tie-ups
Annual Production, and sales
Profit Margins
Average Selling Price
Data Triangulation:
Data triangulation is done using top down and bottom approaches. However, to develop accurate market sizing estimations, both the methodologies are used to accurately arrive at the market size. Insert Image